Dynamic Dogs Chicago has the best experience in the industry. We are trusted professionals who coach you to get the best out of your dog. We train all breeds, and all problems. We train for REAL-LIFE and believe every dog can learn and improve with positive energy and the right leadership.
Private Obedience Lessons and In-home Lessons
Lessons by appointment.  You will receive a customized training plan and homework for between lessons.  Most lessons are 1 hour in length, we also offer 2-hour consults.  We also offer in-home training and behavior consultations. Our trainers have been called "magic workers" and we get results quickly. House calls vary in cost, please include your location for an estimate.
-Lesson at your home, your neighborhood, a park, or at our location
-Make progress faster than a group class
-Work on whatever is important to you!

Boarding School for Dogs
Your dog lives in the trainers home, not a kennel! We offer several all-inclusive board and train camps to choose from. A professionally trained dog has more freedom, and a better life! We do the intensive work that many people do not have the time to do consistently enough.  We bond with your dog and gain their trust in order to best teach them new habits to jump-start your training. We have limited spots for resident dogs so they get our full attention. Follow-up training must be completed, where we transfer the training to you, so plan to do private lessons afterward.
Puppy Special, 10 days
Especially for puppies 16 weeks to 6 months of age
On-leash skills, including leash walking, sits, down, stays, recall, and place
Focus on good manners, begin good habits, learn marker training system of reward-based training
Housebreaking help
Socialization to dogs, new people, and new places to build confidence
Go-home demo and 1-hr lesson
---
Off-Leash Advanced Freedom ***our most popular course***
3 or 4 weeks
Both on and off-leash skills, including heeling, sits, downs, stays, recall, place, and more. Your dog will be reliable and responsive.
Work on behaviors like leash-pulling, digging, barking, hyperactivity, food stealing, critter chasing, dog-aggression, and jumping on people
Communicate with your dog from any distance and around any distraction
Includes Educator E-Collar (a $200 value) a gentle remote training tool
Ages 6 months and up
3 weeks with the trainer
Go-home demo (1.5 hours for lesson)
2 follow-up lessons: both should be scheduled within 1 month following your dogs training
Additional private lessons at a discounted cost
---
Manners & Obedience, 15 days
On-leash skills and some off-leash skills, including loose leash walking, heeling, sits, downs, stays, recall, and place. Your dog will be much better behaved!
Eliminate behaviors like leash-pulling, barking, hyperactivity, food stealing, and jumping on people
Socialization to new places, people, and dogs
Ages 4 months and up
Go-home day demo (1.5 hours for lesson)
2 follow-up lessons: both should be scheduled within 1 month following your dogs training
---
Behavior Rehab for Troubled Dogs, 4-6 weeks
Both on and off-leash obedience skills, with extensive work on behavioral rehabilitation
For special behavior cases, limited spots available
-Dog-aggression
-Bite history to humans
-Remedial Socialization
-Resource guarding or food aggression
-Territorial aggression
Tuition: contact us for an evaluation and estimate
---
Pro Dog, 6 weeks
Off-leash obedience, get your dog working like a pro. This is THE high-end course for a fully trained and super obedient family dog.
Take your dog anywhere and have instant control and responsiveness
Video updates and visitation lessons during training time are available
Includes lifetime support
Movie Talent & Tricks
We train animal actors for film, print, commercials, and more. We have trained dogs to do many behaviors. Watch the video below to see a combination of movie talent and service dog tasks.
 Board & Refresher Training
For dogs that have gone through a Training Camp or even an academy elsewhere, it's an additional training course.  This is a great way to keep your training sharp, as well as keep your dog mentally stimulated while you are out of town.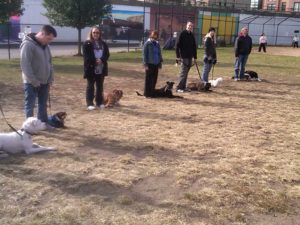 Continuing Education
We offer classes to encourage owners to work with their dogs on a regular basis in real-life situations. Our certified trainers regularly continue their own education, attending seminars and conferences to be the most cutting edge in the field. We want you to be successful in the long-term working with your dog.
We train ALL BREEDS, ALL SIZES, ALL AGES, ALL PROBLEMS…
We do not discriminate based on breed! (Sorry, no cats!)