Jennifer Hack
Jennifer Hack, Certified dog trainer and behavior specialist, Canine Behaviorist
In addition to Jennifer's understanding of dog psychology and behavioral science, her natural ability with animals has given her the ability to be a top tier dog trainer. Jennifer's educational background is in Clinical Psychology. Growing up with the family's terriers and her two horses, she became interested in training and studying animal behavior and ethology. Animal training developed from a lifelong passion, into a career.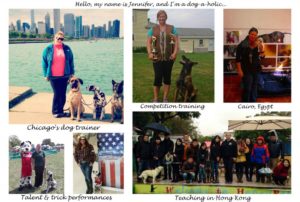 PHILOSOPHY: Jennifer's style of training is pragmatic. Training has to work -with the end goal being reliable performance and the highest potential of the individual dog. A good trainer takes every dog as an individual and reads the dog throughout the process, is clear in teaching, and utilizes a training system that motivates the dog to learn, shaping their behavior through positive reinforcement. The best system of training is balanced and fair, and includes a lot of reward and also discipline when necessary.
CREDENTIALS & ACCOMPLISHMENTS:  Jennifer has worked with hundreds of dogs, small and large, in addition to founding and operating full-service pet businesses and serving as a consultant for other pet businesses. In 2009, Jennifer founded Dynamic Dogs, growing it to a full-service training and kennel facility. She has trained thousands of dogs hands-on for their owners, including advanced and off-leash, service dogs, and rehabilitation of aggressive dogs. Jennifer has experience in multiple venues of training, with a specialty in board and train. She has taught obedience and problem-solving seminars in Chicagoland and abroad. She has titled and placed in internationally established competitive dog sports. A true animal lover, she's often fostering rescue dogs and rehabilitating problem dogs for rescue groups and humane societies. She has provided dog behavior evaluations and training for several rescue groups. Jennifer is also experienced in instructing group classes, private obedience, and behavioral consultations. She has provided independent expert testimony for court cases involving dog bites, and has rehabilitated many aggressive dogs.
COMMITMENT TO CONTINUED EDUCATION
Jennifer keeps up to date on advances in the field of canine behavior- her goal is to always improve and learn. Jennifer passed a course in "Dog Emotion and Cognition" from Dr. Brian Hare of Duke University. Jennifer has attended lectures, seminars, and workshops with numerous trainers across the US, including behaviorist Dr. Ian Dunbar, top AKC obedience and Schutzhund competitor Bridget Carlsen, several top dog sport trainers including Waleed Malouf, Fred Hassen founder of Sit Means Sit in Las Vegas, Cesar Milan of the "Dog Whisperer" tv show, UK behaviorist John Rogerson, police K-9 trainers, scent detection seminars, and more.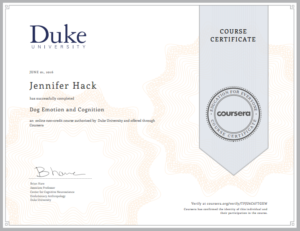 SERVICE DOGS Jennifer has trained mobility assistance dogs, psychiatric service dogs for PTSD and TBI, medical alert dogs, and service animals for people with multiple disabilities. She has been hired by the Make-A-Wish foundation to provide service dogs to children with Autism and Downs Syndrome.
ANIMAL ACTORS & MEDIA She enjoys training and handling animal actors on set for movies, print ads, and commercials. Her expertise has been featured in tv show pilots, local news specials, radio shows, breed fancier publications, veterinary newsletters, and various other media outlets.
PROFESSIONAL AFFILIATIONS Jennifer is a Professional-level Member of the International Association of Canine Professionals (IACP), supporting member of the International Association of Behavior Consultants (IABC), certified AKC Good Citizen Evaluator, and a member of North American Ringsport Association, Schutzhund USA, and Protection Sports Association (PSA). In 2007, Jennifer was certified through the Certification Counsel for Professional Dog Trainers (CPDT), earning this credential by demonstrating knowledge and experience in dog training, and a commitment to continuous education. Each professional dog trainer who earns the designation is required to achieve a certain number of hours teaching classes and providing private training before being permitted to sit for a psychometrically sound written examination covering canine ethology, learning theory, animal husbandry, as well as giving references from veterinarians, clients, and colleagues.
PERSONAL DOGS In her spare time, she enjoys training and competing with her Belgian Malinois (French Ring sport), Dalmatian, and Bulldog. Jennifer has bred Belgian Malinois for trainer's competition dogs and has sold Malinois and German Shepherds for police K9s. Her dogs have been featured in film, print ads, and dog food commercials. She has been invited to do trick shows at MLB baseball games, childrens parties, tv shows, and multiple local tv news programs.
PERSONAL HISTORY "Over 10 years ago, I realized I could be of service to dog owners in helping them have a better relationship with their pets. I enjoy the learning process of dogs, and I take pride in providing my clients with knowedge, practical skills, and the best care for their pets."
Jennifer offers:
Consulting for the pet industry
Seminars and workshops for the public and for other dog trainers
Training of the family dog: puppy lessons, board and train, private lessons, manners, basic to advanced obedience
Skype video lessons and consultations
Behavior Modification: aggression, shyness, biting, dog-aggression
Service dog training and handler lessons
Animal actors for film and print, including trick dogs
Training for competitive obedience and special-purpose
Evaluations and training for non-profit rescue groups and shelters