What sets us apart:  We have a limited number of dogs so each gets proper care.  We know each dogs personality and quirks. Our staff is trained in canine behavior, maintaining health, and best care practices.  We have a kennel area, indoor play room, and a spacious outdoor yard.  The dogs go outside just like they would at home.
Our boarding and daycare is on a routine of turn-out in outdoor yard, play groups for social dogs, and rest times where dogs are crated overnight. A trainer is on the premises overnight with the dogs.
We strive to maintain a comfortable, clean, and safe environment for your pet.

Options for feeding: Most boarders bring their own food.  We sell Orijen and Acana, super-premium pet foods. When bringing your own food, we prefer a medium-sized airtight container and we will feed it per instructions, and each dog has their own individual storage bin labeled as they arrive.  The dogs are fed in their crates.  Every dog has a kennel card on their crate, which has their name, breed/gender, health and behavior notes, the dates of their stay, and feeding instructions.
"What else should I bring?" Bring your dogs food and vaccination records (including rabies, DHLPP, and bordatella). We have everything else.
Your dogs foo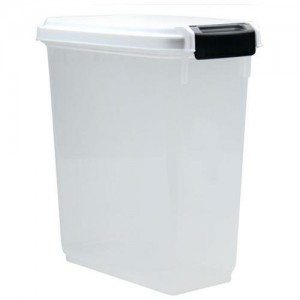 d. Although we do take bags and baggies of food, we prefer not to handle a large bag of food as it takes up a lot of space. We prefer your dogs food in a airtight container of reasonable size for their stay. (see photo)
Do NOT bring: toys, stuffed animals, bowls, crate. We have all of these things.
Bringing bedding is optional, should be of reasonable size and washable, such as a blanket.
Treats are optional. If you bring a bag of treats, we will give your dog a few a day unless otherwise specified.
Any medications, preferably with instructions written on a sheet of paper, otherwise we will follow what the bottle says.
If you do not bring food, your dog will be fed our house food, Precise brand
Safety and Health: We have staff living on the premises.  If any dog displays signs of illness, owners are immediately contacted and dogs are treated as necessary. Our facility has smoke detectors, fire extinguishers, and first aid kits. We use KennelSol which is specific to canine germs and is safe for dogs, and we have air filtration. Food bowls and individual water pails are disinfected every evening. All animal care facilities are licensed by the City of Chicago Animal Care & Control and the IL Dept. of Agriculture through unannounced inspections.