Tuition and prices
Tuition of Boarding School Programs
Boarding and training program costs vary depending on 1) length of time, 2) goals of training, 3) amount of private lessons, follow-up classes, and equipment included. Prices in the industry also vary based on trainers level of experience and level of results.
10-day Puppy Special: $1575
15-day Manners & Obedience: $1875
3-wk Advanced Freedom Course: $2800 (most popular package)
4-week Advanced Freedom & Behavior: $3500
5-week Advanced Freedom & Rehab: (contact for quote)
6-week Pro Dog: (contact for quote)
All include boarding, care feeding, exercise, one-on-one training with our professional trainers, and follow-up lessons to transfer the training over you.
Day Training
$95/day
Custom packages available
Includes daycare, play, and 2 training sessions
Private Lessons & In-home lessons
Private lessons are $85, at our facility
House calls for a private trainer are $140 per hour, plus travel fee
Board & Refresher Training
For dogs that have gone through Boarding School, it's an additional training course. Going out of town? Refresher training is $95/day, including all boarding amenities
Overnight Boarding
Regular boarding: $48/night
Payment Options
We accept all forms of payment, including credit card via PayPal. For board & train, payment is due upon drop-off. We may offer other payment arrangements on a case-by-case basis
Pick up and Drop-off
Don't drive? Busy schedule? We offer pick-up and drop-off
Seminars
Need a dog expert? We provide lectures and workshops on many topics, including obedience, dog behavior, bite prevention, and demos for children and adults
Service Dog Training
We train certified disability assistance dogs for physical disabilities and multiple disabilities, as well as some psychiatric and autism therapy dogs. Training time and cost is based on the tasks involved. We do occasionally train dogs clients already own, but typically we prefer to select a specific dog for service animal work. A trained service animal starts at $6,000, depending on length of task training. All service animals pass a Public Access Test and are fully task-trained to mitigate disabilities. ***AS OF MAY 2017: WE ARE CURRENTLY FULLY BOOKED FOR SERVICE DOG TRAINING CLIENTS***
Training for rescues (dogs belonging to a shelter or rescue): We have special pricing for dogs belonging to a shelter, foster home, or non-profit rescue group. We have helped get many dogs adopted by giving them the skills they need to be good pets! Shelters typically fund-raise for this, or have sponsors. There should be at least one lesson for either the foster parent, or the adopter. 2-week shelter dog makeover: contact us for quote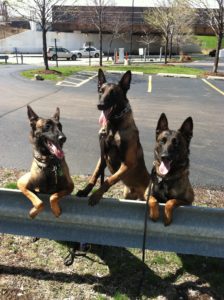 WHO DO WE SERVE? Our trainers and behavior specialists work with many varieties of clients in Chicago and suburbs, including:
Busy folks who are frustrated with their dogs behavior
Veterinarians who recommend our training because they're happy clients
People who have tried many other trainers! We are a cut above.
Families who want a well-trained pet that obeys off leash
VIP and high-profile clients who trust us to accommodate special needs
Those struggling with problematic behaviors
Families with newly adopted rescue dogs
Families with a new puppy from a breeder
Puppy owners who want to start training early