Service Dog Training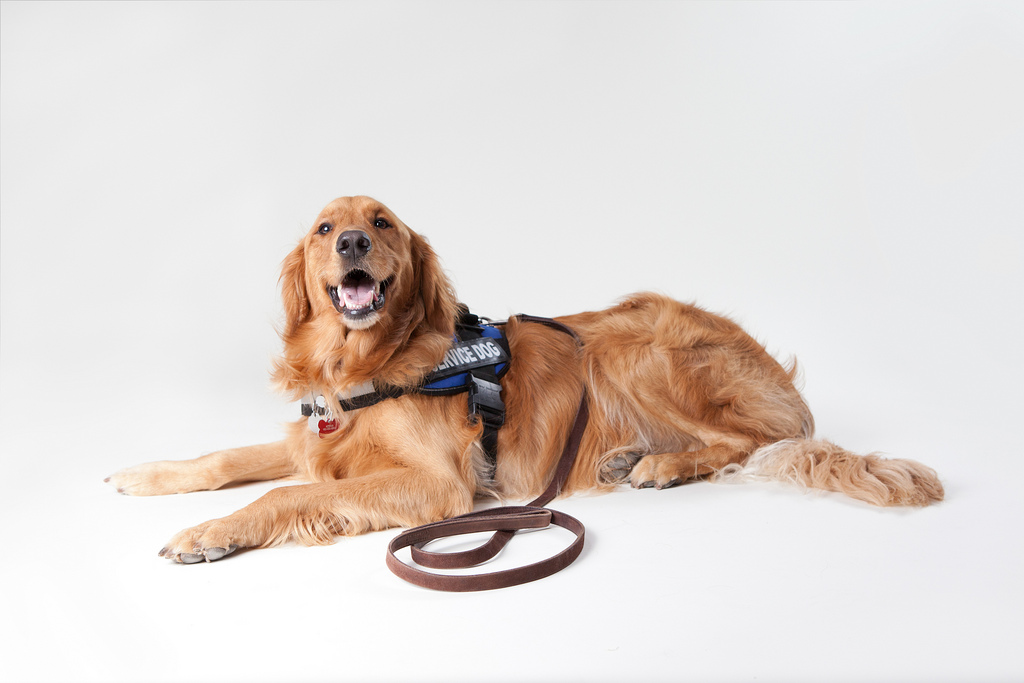 We train service animals for multiple disabilities. The ADA defines a service animal as any guide dog, signal dog, or other animal individually trained to provide assistance to an individual with a disability. Service animals perform some of the functions and tasks that the individual with a disability cannot perform for him or herself. Service animals are defined as dogs that are individually trained to do work or perform tasks for people with disabilities. Examples of such work or tasks include guiding people who are blind, alerting people who are deaf, pulling a wheelchair, bracing, retrieving for those with mobility issues, interrupting behaviors related to autism, PTSD or anxiety attacks, or performing other duties. Service animals are working animals, not pets. The work or task a dog has been trained to provide must be directly related to the person's disability. Dogs whose sole function is to provide comfort or emotional support do not qualify as service animals under the ADA. If you are interested in a therapy dog or emotional support animal (ESA), we can help you with training. Dogs as a pet or companion can provide an amazing therapeutic benefit to individuals with depression, anxiety, autism or Aspergers, PTSD, or other psychiatric challenges. However, they may not have full public access like a service animal.
Some Frequently Asked Questions about Dynamic Dogs service dog training:
Can you train my dog to become service dog? Service dogs are typically selected for the job. Not every dog has what it takes to be a service dog. Most service dogs are selected from breeders. Some are selected from rescues and shelters. Read this article on selecting a service dog puppy. Health and genetics are important, and ideally, you want a puppy or dog from a breeder who has produced successful service dogs. You cannot start with the wrong "raw material" when trying to train a service dog. It would be like trying to make a Golden Retriever into a police dog.CHARACTERISTICS OF A SERVICE DOG CANDIDATE*A few positive characteristics: Social, reliable, stable, praise-motivated, affectionate, not bothered by anything, safe around strangers and children, safe around other animals, not overly interested in other dogs, sound structure.
*Some traits that will most likely eliminate a candidate: fearful, nervous, shy, protective, independent, headstrong, dominant, stubborn, easily stressed, not motivated by praise.
*Some of the traits that will definitely eliminate a candidate: excessively fearful, shows aggression, has bitten any person, has bitten any dog. Has health issues that may cause early retirement, such as (but not limited to): hip dysplasia, arthritis, immune system disorders, vision problems, chronic disease, etc.
I have depression and/or anxiety, if my dog comforts me when I'm anxious, does that make him a service dog? No. Dogs must perform a task related to a disability. Providing comfort is a function of any dog. All companion dogs provide comfort. This may be considered a therapy dog or emotional support dog, but not a service dog.
How much do service dogs cost? Cost can vary depending on: the price of the (untrained) dog itself, the length of training, the number of tasks required. A trained service dog starts at around $7,000. Depending on the tasks, dogs can cost up to $20,000. Keep in mind that a service dog typically does not start working until age 1.5-2, so two years of daily care, plus training work has gone into the dog.
What breeds are the best? It depends on what disabilities the dog will be assisting with. The most popular choice is Labrador Retriever, but not just any Lab. As the most popular dog in the USA, there are many types, and it's best to obtain a dog who is bred for the work and comes from health screened parents.
Generally, I do not recommend giant breeds for service dogs. I do not recommend: Great Danes, Newfoundlands, St. Bernards, or any breed that is giant or drools. Most people are going to always have their dog with them. If you have a huge dog, it's cumbersome to fly on a plane, travel in cars, sit in crowded restaurants, etc. It's also a huge pain to groom these dogs! Service dogs must be cleanly groomed, with no excessive hair or odor. Protective or guardian breeds are also not popular choices. A service dog must be safe for public access, and should pass a public access test (PAT). Of course it depends on the individual dog. Not every German Shepherd is protective, for example.
In order to begin training a dog as a service animal ,you will need several things, including:
A disability that interferes with your ability to live your life
Specific tasks that the dog will assist you with, directly related to your disability. Discuss this with your doctor.
A letter from your doctor recommending a service dog for specific tasks
A dog who is well-suited for the job
Long-term private lessons